AGM & Conference
Annual General Meeting & Conference
SAVE THE DATE: 39th AGM & Conference is scheduled for October 25-26, 2019.
HERITAGE TOURISM: EXPERIENCE MUSEUMS!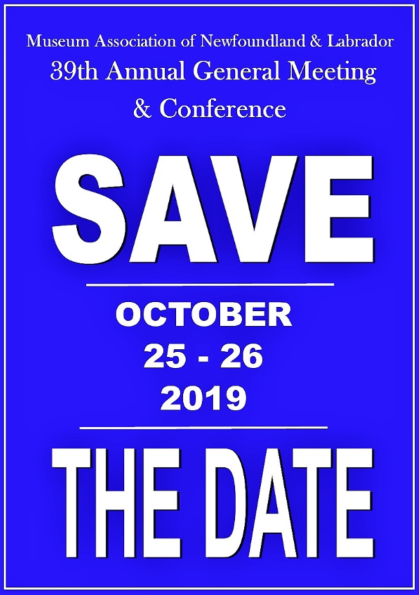 ---
38th AGM & Conference: October 19-20, 2018

MANL is excited to announce our 38th Annual General Meeting & Conference is happening on October 19-20, 2018 in St. John's, Newfoundland and Labrador. We hope to see you there! The theme for this year's conference is Achieving Museum Excellence.
38th AGM & Conference
MANL's 38th AGM & Conference will take place at two locations:
October 19, 2018, 9 am - 4:30 pm - Pre-Conference Workshops
Location: Ramada Hotel, 102 Kenmount Road, St. John's, NL
October 20, 2018*, 9 am - 4:45 pm - A.G.M. & Conference
Location: Holiday Inn Express & Suites St John's Airport, 5 Navigator Ave, St. John's, NL
*On October 20, shuttle service to the Holiday Inn will be provided for all guests staying at the Ramada.
---
2018 Conference Registration Form
2018 Conference Kick-Off & Opening Reception:
October 19, 2018 at 7 p.m.
Join us as we kick off MANL's 38th Annual Conference at the Royal Newfoundland Regiment Museum, Friday evening, October 19, 2018. Enjoy light refreshments, with updates from our members and of course the chance to chat with other museum enthusiasts.
The Royal Newfoundland Regiment Museum is dedicated to preserving the history of the famed Royal Newfoundland Regiment since its inception to the present day. It is located in the Main Lobby of the Anthony W. Paddon Building, CFS St. John's, 102 The Boulevard (near Quidi Vidi Lake).
Visitors are welcome to enter the front gate and park in the Building parking lot. Enter the Museum by the front door of the building and check with the commissionaire at the front desk. Visitors must present a government photo ID (eg drivers license).

---
IMPORTANT CONFERENCE INFORMATION FOR MANL MEMBERS:

1. Conference Registration Form

2. Annual General Meeting Notice
4. Silent Auction Donation Request Form